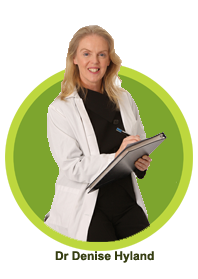 Dr. Denise Hyland MB BCh BAO DPD LMCC
Dr. Denise Hyland received her medical degree in 1982 from University College Dublin in Dublin Ireland and a post graduate Diploma in Practical Dermatology and Certificate in Dermoscopy from Cardiff University in the UK.
She practiced family medicine for 25 years in Ireland, Newfoundland and Australia prior to opening The Lazer Room in 2007. While in family medicine, she had a huge practice that encompassed women's health, geriatrics, care of hospital inpatients, obstetrical deliveries and shifts in hospital emergency departments. She had a keen interest in incorporating complementary medicine into her practice, so she also studied acupuncture with the Acupuncture Foundation of Canada and has complteted extensive training in Metabolic and Nutritional Medicine in the United States, with the ultimate aim of obtaining a Master's Degree in that field through the University of South Florida School of Medicine.
Together with Steve Jackman, she founded Smart Seminars (Stress Management and Relaxation Training) in 1991, presenting stress management seminars to executives, entrepreneurs and various government employees in Ireland & Newfoundland.
In her current practice of cosmetic medicine, she employs a holistic approach to aging; tackling facial lines, wrinkles and sagging with Botox, Dermal Fillers and Lasers, while addressing the internal factors that accelerate the aging process through a combination of Bioidentical Hormone Replacement, Nutritional and Metabolic interventions. Together with Mr. Jackman and other guest facilitators, she also hosts seminars and group discussions focusing on the existential dilemmas of midlife.
A believer in life-long education, Dr. Hyland has committed hundreds of hours to studying advanced aesthetic medicine techniques with a variety of expert clinical preceptors in the UK, Canada and the United States by attending seminars in Laser Medicine hosted by Harvard University and the Beckmann Institute at the University of California Irvine campus, as well as attending many international conferences in the field.
Dr. Hyland is a member of the Canadian Medical Association, the American Academy of Anti-Aging Medicine (A4M), the Canadian Association of Aesthetic Medicine (CAAM); an associate member of the American Society of Laser Medicine and Surgery (ASLMS); and an active member of the St. John's Board of Trade.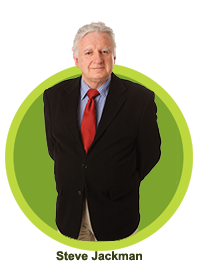 Steve Jackman, B.A. (Psy); MSHRD; MBTI cert; NCTAS.
Steve Jackman graduated from the American University/NTL Program in Washington, D.C. in 1990 with a Masters of Science Degree in Human Resource /Organizational Development (MSHRD) (Honors) and was awarded membership in Pi Alpha Alpha, the National Honor Society for outstanding scholarship and achievement.
Mr. Jackman's  undergraduate degree is a B.A.(Psy.) from Memorial University of Newfoundland, where he was appointed Chief Research Assistant to Professors Vivian and John Renner, in which capacity he designed and conducted programs in Relaxation Training, Cognitive Functioning, and Effective Communications for the University Counseling Center and MUN Extension Department.
Mr. Jackman has 15 years' experience in consulting and designing workshops for the Department of Secretary of State of Canada where he had responsibility for managing various Community Development Programs including Voluntary Action, Youth Development, Multiculturalism and Multicultural Education.
He has consulted with numerous local, national, and international associations including Rural Development Councils, Professional Health Care Organizations, Community Cooperatives, National Secretaries Association, Federal and Provincial Government Departments, PSAC, Business and Industry, Community Colleges and other educational organizations in Canada and the United States.
In 1991, he co-founded SMART SEMINARS with Dr. Denise Hyland, and they conducted seminars in Stress Management, Relaxation Training and Self-Actualization for executives, entrepreneurs and other professionals in Ireland and Newfoundland. He is currently operating a private practice which includes Stress Management; MBTI counseling; Training Design; and Community and Organizational Development in St. John's, Newfoundland.
He is also Nationally Accredited as a tobacco addiction specialist (NCTAS) by the Canadian Addiction Counselors Certification Federation (CACCF), and together with Dr. Hyland, developed and facilitates a 12-week comprehensive nicotine withdrawal program – The Quit Program.
Steve is a member of the AU/NTL Association in Washington, D.C., a past Chairman of Safety Services NL (NL Safety Council) and  has also served on the Board of Directors of the Newfoundland and Labrador Multicultural Council  Inc.  He has traveled widely throughout North and South America, Europe, Asia, Australia, and New Zealand.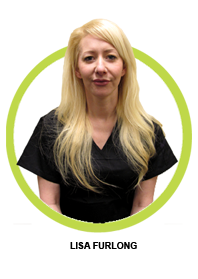 LISA FURLONG (DIP,AESTH.)
Ms. Lisa Furlong is a Medical Aesthetician/Laser Technician, with five years of experience and advanced training in the industry. Lisa graduated at the top of her class, Blanche MacDonald Centre in Vancouver. For the past three years, she was the Manager/Aesthetician at Paris Cliniqe where she led a team of professionals in providing aesthetic and laser services to a clientele of some 2000 persons. Having just moved to St. John's NL with her family, Lisa has become a most valued and integral part of the Team at The Lazer Room. She has a deep passion for skin care and medical aesthetics and is highly skilled in a wide range of aesthetic and laser procedures. Lisa has exceptional client service skills and uncompromising eye for detail – she will serve you well!
Lisa will be advising on skin care products, performing Laser Hair Removal, Accent XL cellulite and skin tightening procedures, cosmetic tooth whitening, microdermabrasion and light chemical peels, IPL treatments for rosacea and photopigmentation , and Affirm Multiplex laser facial rejuvenation under the supervision of our Medical Director, Dr. Denise Hyland.